NEWS:
Local shops which provide delivery and collection services
02 April 2020
Please support these businesses and still shop local when you can.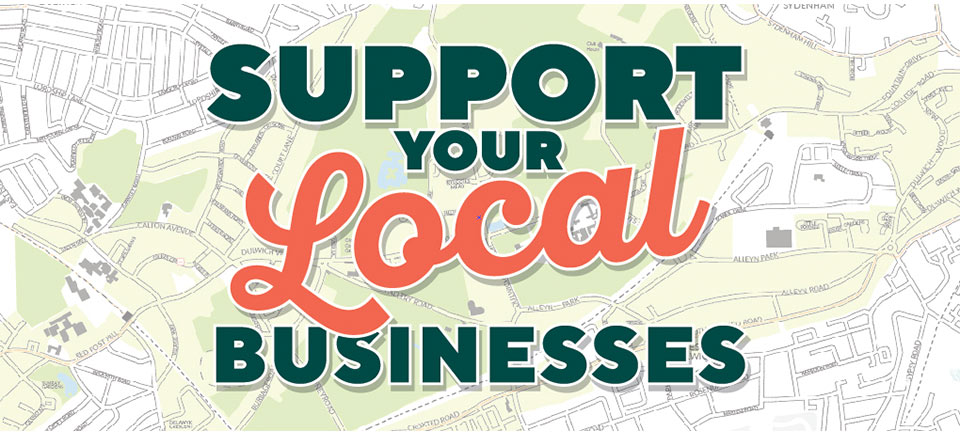 Support your local businesses
Government guidelines state shop only for basic necessities for example food and medicine, and then as infrequently as possible. Many local businesses are therefore providing a range of local delivery, click and collect, or advisory services, and are following social distancing rules.
Books
Village Books (Dulwich Village)
village-books.co.uk
Order by email dulwich@village-books.co.uk
1d Calton Avenue, London, SE21 7DE
Call 020 8693 2808
Dulwich Books (West Dulwich)
Advice and local delivery of all titles in stock, including childrens' books, greetings cards, wrap and gift bags. Website in progress.
Email hello@dulwichbooks.co.uk
Call 02086701920/ 07821604983
Food
Cook
Same day frozen meals available through click & collect
cookfood.net/shops/west-dulwich
80 Park Hall Road, SE21 8BW
Call 020 8670 4077
Dulwich Bakery
Local deliveries, on foot. Free hot drinks for NHS staff. Reduced opening hours. Social distancing rules apply.
dulwichbakery.com
78 Park Hall Road, SE21 8BW
Call 020 8670 0510
Gails Bakery
The bakery offers a click and collect or door delivery service
gailsbread.co.uk/order/98-click-collect
91 Dulwich Village, SE21 7BJ
The Proud Sow
The butchers is getting daily supplies and operating a 1 in 1 out policy. Card payment is required. A limited home delivery service is available for online orders with delivery times to be arranged by phone.
Proudsow.co.uk
86 Dulwich Village, SE21 7AQ
Call 020 8693 6729
Gardening
Croxted Road Garden Centre
Offering expertise and local delivery services.
croxtedroadgardencentre.co.uk
Croxted Road, London SE24 9BD
Call 0208 674 4366
Gifts and clothing
Tomlinsons/The Dulwich Trader
Delivery on their full range of clothes, gifts and homeware
Order online at rigbyandmac.com
Jane Newbery
Delivery on gifts, art and homeware
Email: janehole@janenewbery.co.uk
Shoes
Biff Kids
Feet will grow but Biff urges everyone not to buy on-line without good advice. The Biff team is available for phone consultations and can help find a safe choice for your child. All stock is being moved online. Childrens' clothes and nightwear also available.
Free local delivery. Social distancing rules applied to drop off with a text confirming delivery of goods. Email biffdulwich@gmail.com for an appointment by phone.
biffkids.com
41 Dulwich Village, London SE21 7BN
020 8299 0911
Stationers & Toys
Green's Village Toy Shop
The stationery and toy shop is offering free local delivery when you spend £10+.
Collection from 31 Dulwich Village, Dulwich, London SE21 7BN is also available.
Call 0208 693 5938 to pre-order.