NEWS:
Estate news round-up, June 2019
21 June 2019
News and events round-up from the Dulwich Estate.
West Dulwich welcomes you
Working with independent traders on Park Hall Road and Croxted Road, The Dulwich Estate commissioned two new wall murals which welcome visitors to the area. We think art collective Alphabetics Anonymous did a great job. The signage helps to develop a distinctive identity for the shopping parade.
Follow on Instagram alphabetics_anonymous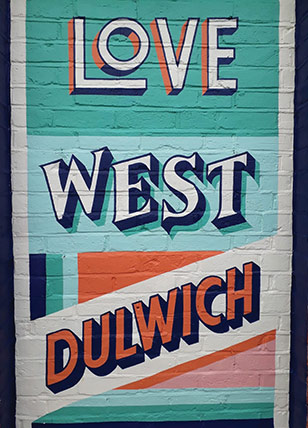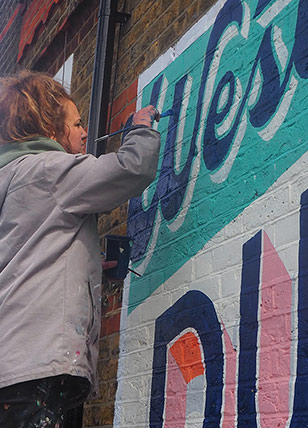 Invitation to community consultation events
As the landlord to commercial tenants on three high streets in the area (West Dulwich, Dulwich
Village and Herne Hill) we are frequently asked about what is happening when a new shop opens or closes, or when we are working to improve our properties. We are responding to this interest by holding two small exhibitions in July, setting out planning proposals which aim to significantly improve elements of the existing high streets. You will be able view work-in-progress plans for Dulwich Village and West Dulwich, as well as meet members of the The Dulwich Estate team and ask questions. The plans will be reviewed in response to feedback from the event, before they are submitted to the local authority for planning permission.
The events are:
Date: Thursday 4 July, 5-8pm
Venue: 88 Park Hall Road, West Dulwich
(former Phase Eight)
Date: Saturday 6 July, 12.30-3.30pm
Venue: 27 Dulwich Village
Dulwich heritage trail
Watch out for a new heritage trail around the area From September, a new map and heritage trail will offer walkers a sign-posted route from North Dulwich to South Dulwich, with five new panels highlighting historical attractions. The walk starts at North Dulwich station, through the heart of Dulwich Village and south towards Sydenham Hill. Maps will be available online at thedulwichestate.org.uk, from local shops, and from The Dulwich Estate office at The Old College, 18 Gallery Road, Dulwich SE21 7AE.
Behind the scenes…
The Dulwich Estate wishes to thank everyone involved in helping with 400th anniversary projects. They have been delivered with the support of many people, including some young and talented apprentices. We are very grateful to you all.