NEWS:
Come to the Christmas Stocking events - 10 December
06 December 2022
The Christmas trees are up. The lights are on. Now, pens at the ready for Saturday December 10, 10am-5pm and the welcome return of the Dulwich Christmas Stocking.
The Dulwich Estate is delighted to work with the Dulwich Traders' Association to bring back this festive treasure hunt through the Village for families.  Simply collect an entry form in shops displaying the Christmas Stocking. Hunt for the cut-out stockings in the shop windows. Each has a letter. Unscramble them to make a Mystery Name. Post your entry in the post box at Green's Toy Shop. Winners will be drawn on Monday 12 December and will receive a gift voucher to spend in the toy shop or Village Books. Good luck!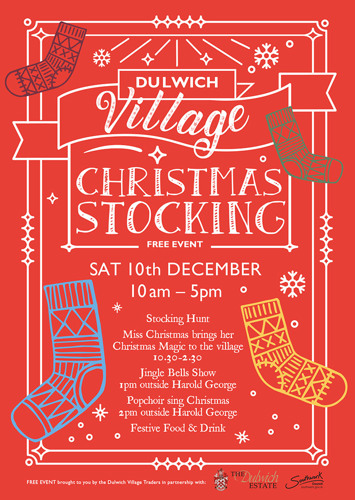 Christmas Stocking events include: 
Miss Christmas on tour through the Village, 10.30am -2.30pm
Julia Donaldson and Lydia Monks will be signing at the bookshops 11.30am -1.30pm (sold out)
Jingle Bells Show, 1pm outside Harold George
Popchoir sing Christmas, 2pm outside Harold George
Return of the Christmas trees throughout the Village
Festive food and drink