Front doors
As well as being the threshold to your home, front doors and their frames are architecturally significant elements. For many 19th and 20th century properties or terraces, inter-war and post-war group developments, the front door design is the same for all houses. In some cases, the paint colours vary, but this consistent appearance affects the character of the local area which is protected by the Scheme of Management.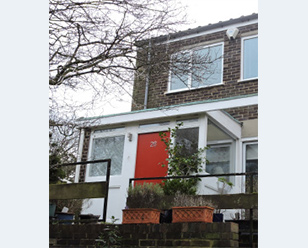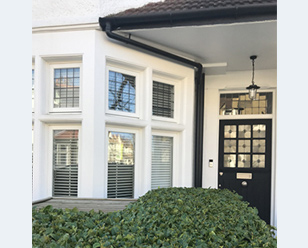 When retrofitting your home it is worth considering retaining your original front door rather than replacing it. The existing door has embodied carbon and the wood, if historic, could well be more durable than modern timbers. An experienced joiner, surveyor, or architect can advise you about how your door could be conserved and how you could improve security through repair and reinforcement. You can also achieve energy savings with repairs such as:
Timber repairs such as replacement, splicing, or resin repairs
Reinforce door panels and frames
Improve hinges and locks
Add draught-proofing seals to the door perimeter and frame
Draught-seal letter boxes and use escutcheons on your locks
Use low VOC high-performance paint systems
Install a timber weather bar to the base of the door to deflect rainwater, and a steel bar to the cill to prevent draughts
Heavy curtains hung internally, or a secondary internal door can improve thermal performance
If your door cannot be retained, replacements should replicate the original design and materials. Any change to the external appearance, or replacing a modern door to match the original design will need a licence application. Please contact the Scheme of Management with detailed drawings and a supporting statement. If your property is listed, you should contact the Local Authority Conservation team for further advice.
What is trickle ventilation?
When replacing windows or draught-proofing to reduce heat loss adequate room ventilation must be maintained, especially where combustion appliances are present. This may involve the introduction of a trickle vent to the window frame or air vents to your walls. Trickle vents can affect the window appearance and should be avoided in prominent locations or if your property is listed