400 YEAR ANNIVERSARY:
The College of God's Gift
Edward Alleyn located his foundation in buildings known as The College of God's Gift on what was Dulwich's Village Green. He built a U-shaped complex housing a chapel, a schoolhouse and an almshouse for 12 people. The chapel known as Christ's Chapel of God's Gift, was completed first and was consecrated on Alleyn's 50th birthday, 1 September 1616. Alleyn was 'hands on' with the development even organising the supply of building materials. He visited schools and hospitals in England to learn about how they were managed and he set out clear rules for residents and students.
The College of God's Gift was to benefit four parishes associated with Alleyn. Each parish was entitled to nominate three poor scholars to be educated, and three poor men or women for admission to the almshouse. A schoolmaster, assistant, chaplain and organist formed the four fellows who were managed by the Warden and Master of the College.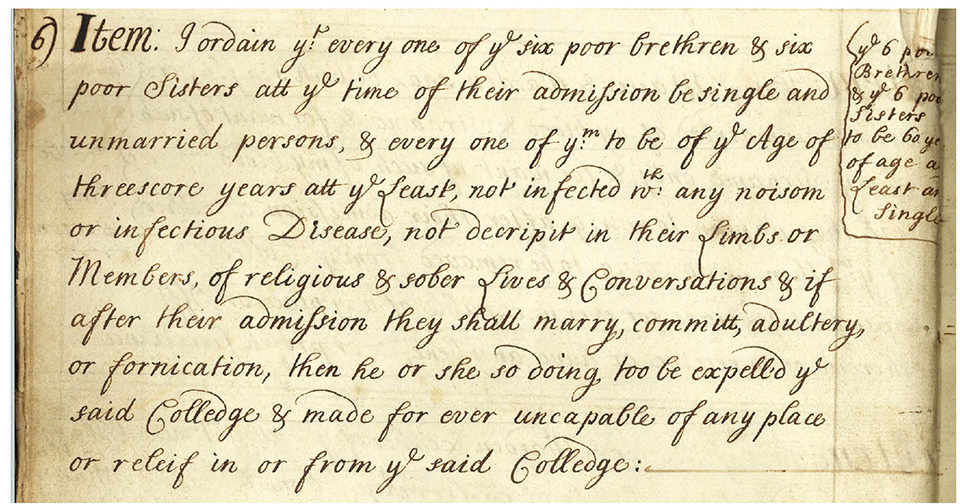 In 1857 The College of God's Gift was dissolved and reformed by an Act of Parliament. A Board of Governors replaced the fellows and in 1860-63 a windfall of money from the sale of Estate land to railway companies provided funds for the building of the present day Dulwich College. Further reform was necessary in 1882. A separate Board of Governors was formed and five additional schools from the original parishes were added as beneficiaries. The seven beneficiary schools were the Upper and the Lower schools (which became known as Dulwich College and Alleyn's School), the Central Foundation Schools, James Allen's Girls' School and St Saviour's and St Olave's Foundation Schools.